Values and Ethos
At Bayards Hill Primary School, we promote the basic British values of democracy, the rule of law, individual liberty, and mutual respect and tolerance for those of different faiths and beliefs. We are also committed to creating a sense of pride, belonging and identity in our school, and to developing the character of each and every one of our children.
As part of our commitment to developing character, all staff, pupils and governors share and promote three key Bayards Hill Primary School values:
Respectful, Responsible and Resilient
These three core values will be at the heart of all that we do, will be embedded within the curriculum, and the children will be rewarded on a regular basis for demonstrating them in and out of the classroom.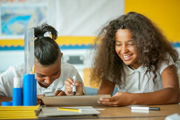 We are… Respectful
Of ourselves
Of others
Of diversity, cultures and religions
Of our school
Of our wider community
Of others' learning
We are… Responsible
For our actions
For each other
For property and equipment
For our own learning and personal development
We are… Resilient
We keep trying – we persevere
We adopt an 'I can' attitude
We adapt: 'I can't' to 'I can't…YET!'
We're not afraid of failure: we learn from it
We embrace change: it's what helps us grow and develop
We relish challenge
We use skills and strategies to solve problems and overcome challenges
Together we strive to be respectful, responsible and resilient.